Who doesn't want to look their best at any age? And for many, investing in a skincare routine is the way to maintain healthy, youthful skin.
However, there are also those who go the extra mile with minimally invasive cosmetic treatments in their beauty regimen. One good example of these is a chemical peel.
Interested? Read on to learn more about this effective skin treatment.
A chemical peel treatment is an acidic solution applied to your skin to exfoliate damaged top layers and boost collagen growth, giving you a brighter and more even-toned complexion.
Moreover, it also addresses other skin conditions such as acne, as well as fine lines and wrinkles. In fact, the right peel can also effectively treat age spots, hyperpigmentation, rough skin, and sun damage.
There are many types of chemical peels. The most popular options include glycolic acid peels, trichloroacetic (TCA) peels, salicylic acid peels, and a blend of lactic acid, salicylic acid, and resorcinol AKA the Jessner's solution peels.
The 3-Step Peel at Clarebella Aesthetics
Here at Clarebella Aesthetics, we offer the ZO 3-Step Peel.
This treatment is a multifunctional epidermal peel that helps reduce the appearance of the following:
Acne
Melasma
Sun damage
Fine lines and wrinkles
Rough texture
Large pores
Dullness
Additionally, our 3-Step Peel also promotes softer and smoother skin so you can feel like the best version of yourself again.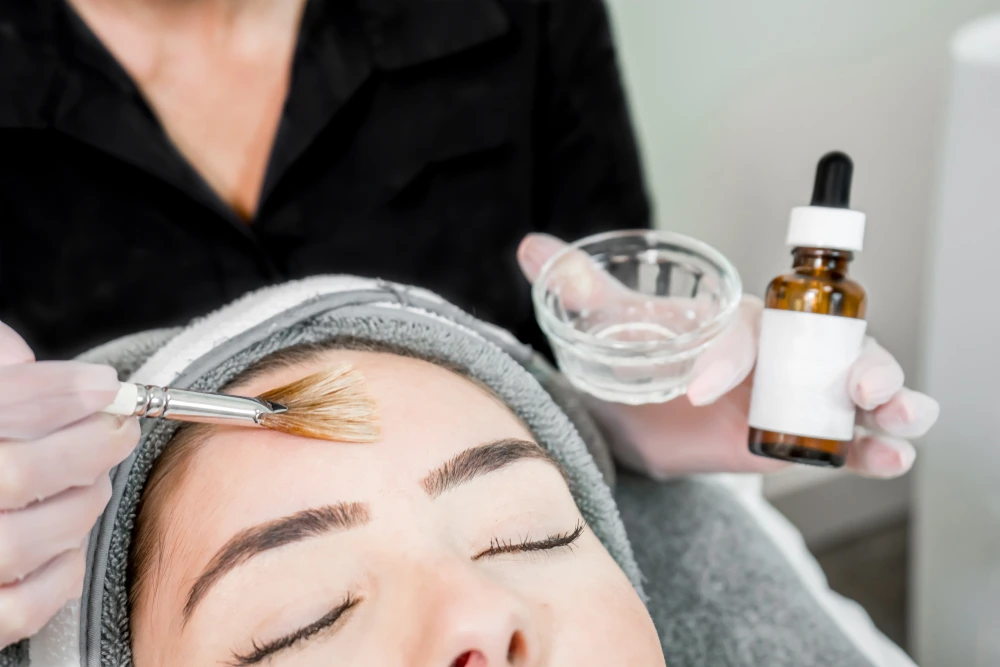 Long-Term Benefits of a Chemical Peel
For a better understanding of how a chemical peel like our 3-Step Peel can help you achieve your skincare goals, let's expound on its long-term benefits:
A chemical peel reduces the appearance of fine lines by sloughing off the dead outer layer of skin. Once the dead skin cells are removed, it will reveal smoother and healthier-looking skin.
Improves Mild to Moderate Acne
You can notice an improvement in your acne after a series of chemical peel treatments. Your skin will be exfoliated using an alpha or beta hydroxy acid that helps reduce acne. As a result, you'll get the clearer complexion you've always wanted.
Addresses Pigmentation Issues
We're not just talking about the face. A chemical peel can also be applied to the hands, neck, and chest to help lighten any hyperpigmentation, age spots, and melasma.
Clarebella's 3-Step Peel can help repair and reverse damage from excessive or constant sun exposure. Of course, it's still necessary to stay out of the sun and to wear sunscreen on a daily basis, especially after the treatment since your skin is temporarily more sensitive to the sun.
Improves the Appearance of Scars
A chemical peel also helps improve the appearance of light scarring due to surface acne. In case you have more prominent scars, your provider can also recommend a moderate or deep chemical peel that can help reduce their appearance.
Reveals a New Layer of Fresh, Healthy Skin
Another long-term benefit of a chemical peel is its effect on your overall appearance, especially the texture of your skin. Aside from addressing previously-mentioned skin concerns, it can also give you a beautiful, youthful glow that you can maintain with consistent treatments
Maximizes the Effectiveness of Your Skin Care Products
Once the dead skin cells are cleared, your skin care products are more easily absorbed by your skin. In turn, they can provide you with the maximum effect.
Experience these seven long-term benefits today. Start your journey towards clear skin here at our clinic in Oklahoma City, OK. 
Book a consultation with us to get started.