If you're into skincare, you've probably heard of microneedling and its amazing benefits. If not, here's a quick introduction: microneedling is an effective skin rejuvenation treatment if you want a smoother skin texture and more youthful-looking appearance.
Traditionally, microneedling treatment providers use a handheld SkinPen to carry out the treatment. But did you know that aside from the traditional microneedling procedure, there's another treatment option that incorporates radio frequency (RF) for even more dramatic results?
Read on to know more.
Spoiler alert: This isn't your regular microneedling.
While it works much like a traditional microneedling device, the Morpheus8 treatment also makes use of RF technology.
Basically, this minimally invasive skin treatment developed by InMode uses tiny needles to deliver RF energy to your skin. This combination results in controlled micro-injuries, which trigger your body's natural healing response.
This FDA-cleared device can address a variety of skin concerns ranging from acne scars, fine lines and wrinkles, stretch marks, and hyperpigmentation, among others. It is also used for skin tightening, smoothing skin texture, and even helps address excessive underarm sweating.
What Makes Morpheus8 So Effective
A Morpheus8 treatment is a great investment if you want to see natural-looking results without undergoing a more invasive treatment. Since it uses radiofrequency, this innovative procedure reduces any risk of inflammatory hyperpigmentation.
Moreover, it triggers collagen and elastin production at a deeper level compared to the regular microneedling procedure. With 24 coated pins, Morpheus8 can penetrate deep into the subdermal tissue, which is farther than the traditional SkinPen can go.
As a result, the treated area will be rejuvenated and you'll have smoother, firmer, and more toned skin.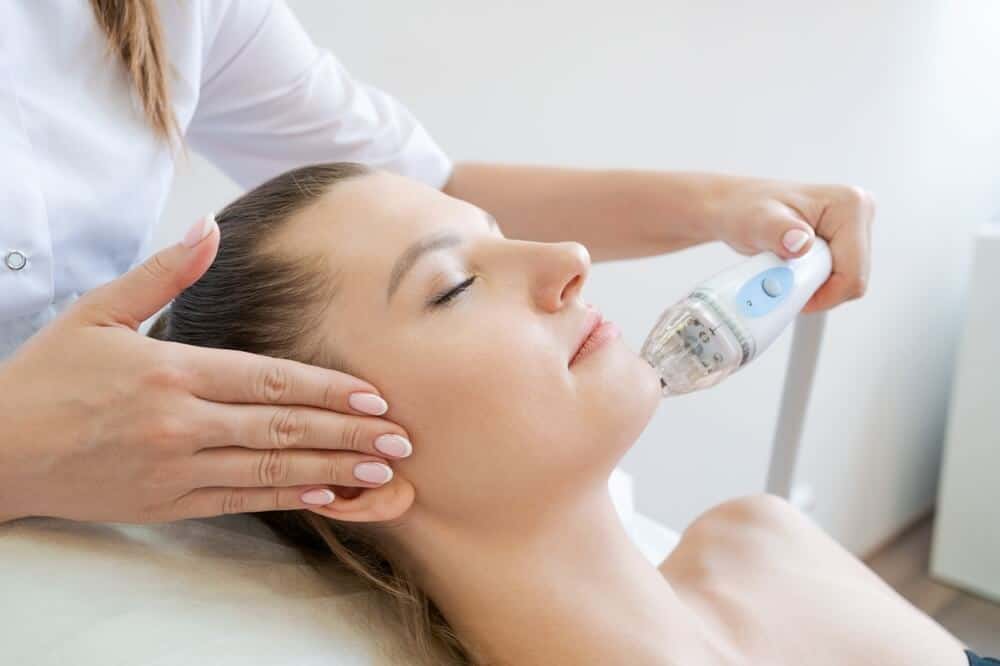 Morpheus8 Treatment Proper
First, your provider will apply a topical numbing cream on the treatment area after cleansing. This is to ensure that you'll have a comfortable Morpheus8 microneedling experience.
The handheld device will then be pressed carefully into the area to allow the microneedles to perforate the skin. When the pins are already in place, the Morpheus8 device will emit radiofrequency waves.
Needle depth, as well as RF frequency, can also be adjusted depending on your desired results. Overall, it's quick and relatively painless. Plus, there's no downtime, so you can go right back to your daily routine right after.
Common Treatment Areas for Morpheus8
The most popular treatment areas include the jowls, jawline, and the area below the chin. However, Morpheus8 can also be used to address skin laxity above the knees, on the abdomen, and on the inner and outer thighs. 
As a skin rejuvenating treatment, it can effectively correct the following: 
Acne scarring 

Discoloration

Loose skin on the face and neck

Sagging skin under the eyes 
Meanwhile, here at Clarebella Aesthetics, we also use Morpheus8 to address excessive underarm sweating, especially for male and female patients aged 14-25 years old. For best results, a series of three treatments is recommended.  
What are you waiting for? You, too, can experience these Morpheus8 results when you avail of the treatment here in Oklahoma, OK, today.